Research
---
In a collaborative effort between Emory's Woodruff Health Sciences Center and the Emory Center for Contemplative Science and Compassion-Based Ethics, the Department of Spiritual Health is engaged in a multi-year, multi-study research effort to investigate the potential benefits of Cognitively-Based Compassion Training (CBCT) for chaplains and the effect of CBCT-adapted bedside interventions on patient outcomes.
This research program leverages a change in Emory's clinical pastoral education curriculum in which all residents are now completing a course in CBCT. During the first few years of the program, half of the residents completed CBCT during the first unit of residency and the remainder during the third unit. The staggered training times allow for a comparison between chaplain outcomes and the outcomes of patients seen by spiritual health clinicians differentially exposed to CBCT-adapted interventions.
The foundational research for this effort is a cross-sectional survey on the frequency and distribution of sources of distress among hospital inpatients. This study is largely complete although the data continue to be analyzed for associations between hospital distress and important clinical outcomes such as anxiety and pain. While providing important information in its own right, this foundational study has also provided data important for guiding the development of CBCT-adapted interventions that can be used at the bedside with hospitalized patients.
Click Here to Know How the Science Works
A pilot study to examine the effect of CBCT on the chaplains' empathic accuracy, compassion fatigue, burnout, and wellbeing found benefits to chaplains in these measures. Similar data are currently being analyzed from a larger study on the past two residency cohorts. In this larger study, we are also evaluating the effect of the CBCT-adapted interventions on patients. To accomplish this, we have surveyed patients for distress and wellbeing before and after receiving a spiritual health consult from chaplains trained in CBCT vs. those waiting to be trained.
A subset of these consults have been audio-recorded and are being analyzed qualitatively to explore how chaplains are employing CBCT in their practice. Additionally, we are interviewing chaplains to qualitatively evaluate how CBCT is being received, understood, and practiced. This study program reflects Emory's focus on the three pillars of CPE: service, education, and research and Emory's commitment to leading the development of evidence-based, compassion-centered spiritual health in the medical setting.
Meet the Team
Patricia "Kim" Palmer, M.Div, M.S.P.H., BCC
Senior Research Consultant, Woodruff Health Sciences Center, Emory University
View Kim's Profile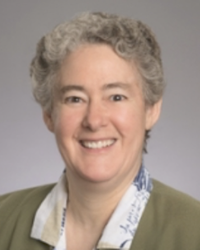 Emory Receives NIH Award Toward Clinical Spiritual Health
---
The scientific and clinical importance of training spiritual health chaplains/clinicians in the delivery of compassion-focused, evidence-based care has received recent recognition from the National Institutes of Health (NIH) in the form of a new five year K01 career development award to 
Jennifer Mascaro, PhD,
 faculty appointed as a biological anthropologist in the 
Department of Family and Preventative Medicine at the Emory School of Medicine (Theodore Johnson, MD, MPH, Chair)
. Mascaro is also lead scientist for Emory Spiritual Health in the Woodruff Health Sciences Center at Emory University (George H. Grant, MDiv, PhD, Exec. Dir.). This award complements earlier PEACE grant funding from the 
Mind & Life Institute
 to Dr. Mascaro and her team to conduct a randomized trial of the impact of 
CBCT® (Cognitively-Based Compassion Training)
 on the well-being of chaplains and their hospitalized patients. The new K01 career award, through the 
National Center for Complementary and Integrative Health
, is the first such award from the NIH, given to specifically study chaplain-delivered compassion interventions in a hospital setting. In particular, the K01 award will support Dr. Mascaro's training in integrative oncology research methods and implementation science, which will allow her to evaluate the feasibility and acceptability of a chaplain-delivered CBCT® meditation derived program for patients receiving hematopoietic stem cell transplant for cancer. 
Although chaplains have long cared for the medically ill, their value for American healthcare has received increasing attention as recognition grows that spiritual health clinicians provide a much needed healing human connection in hospital and clinic environments that are often alienating and impersonal. Because these spiritual health clinicians are already professionally embedded within many healthcare systems, they are also optimally placed to provide wellness interventions that many patients and staff desire, but that healthcare systems frequently find difficult to provide.
Recognizing these challenges and opportunities, Emory Spiritual Health has embarked upon an ambitious program of research aimed at developing and testing strategies for enhancing the ability of chaplains to care for their patients and co-workers. Because providing compassion is so central to the work of chaplaincy, Spiritual Health is collaborating with the 
Center for Contemplative Science and Compassion-Based Ethics at Emory University
 (Lobsang Tenzin Negi, PhD, Exec. Dir.) to integrate Cognitively-Based Compassion Training, or CBCT®, into the education of chaplains-in-training. This training forms a foundation for Emory's new 
Compassion-Centered Spiritual Health (CCSH™)
 initiative, a comprehensive program that trains chaplains to provide interventions and approaches tailored for the specific needs of different clinical and staff-based settings. 
"My years spent researching meditation as a health intervention have convinced me that chaplains—spiritual health clinicians, as Dr. Grant promotes—represent a unique and key resource for humanizing the face of American medicine," said 
Charles L. Raison, MD
, Director of Research at Emory Spiritual Health. "Because of this, Dr. Mascaro's career award has implications not just for the patients she will help, but for the medical system as a whole. Given how overstretched our system is, we need to wisely use all available resources. Just as surgeons, internists, nurses and other healthcare clinicians perform their own unique roles in healthcare, chaplains are charged with bringing compassion to bear to address the spiritual and emotional needs of their patients. As such I believe they play an irreplaceable role in healthcare, and a role that we hope to optimize by studying how they might best contribute to 
Improving Lives and Providing Hope
."
Spiritual Health Research Publications
---