Caroline Peacock, LCSW, M.Div
Manager of Spiritual Health, Winship Cancer Institute Vice Chair of Wellness, Department of Hematology and Medical Oncology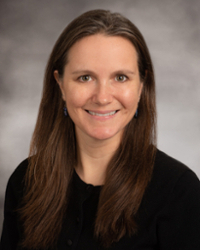 Contact Information
Email
caroline.peacock@emory.edu
Phone
404-778-8029
Additional Websites
Caroline Peacock is an ACPE Certified Educator, Board Certified Chaplain, and Licensed Clinical Social Worker. She received her training in social work at City University of New York, Hunter College School of Social Work. She attended seminary at General Theological Seminary in New York and is an Episcopal priest.
Caroline engaged in spiritual health training for residency and ACPE certified educator training at Emory Healthcare and was certified in 2018. She is a CBCT instructor. Caroline utilizes skills and knowledge from the social work and spiritual health/ministry fields in her work with training spiritual health practitioners, as well as clinical work with patient and staff.
Current Positions & Responsibilities
Manager of Spiritual Health program for Winship Cancer Institute.
Co-leadership of Wellness program for the Department of Hematology and Medical Oncology.
As Manager of Spiritual Health for the Winship Cancer Institute Caroline is responsible for overseeing the provision of spiritual and emotional support to patients, families and staff members across the Winship component sites. Caroline is also the Certified Educator working with Spiritual Health residents at EUH. Winship Spiritual Health Clinicians are available at EUH, EUHM, and ESJH, offering professional, compassionate and effective spiritual health assessment and intervention.
Caroline's vision for spiritual health includes provision of care to all persons, with a broad array of religious, cultural and philosophical identities and perspectives. Caroline's vision for spiritual health is full integration of spiritual health within the healthcare system, ensuring compassionate and effective companionship to persons in moments of suffering, transition, and distress.