Va'Nechia Rayford, M.Div
Director of Spiritual Health at EUH, EUOSH & EWWH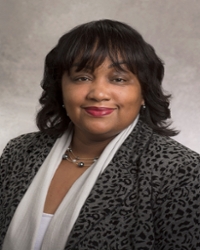 Contact Information
Email
va.nechia.marie.rayford@emory.edu
Phone
404-712-5179
Va' Nechia M. Rayford began her service as the Director of Spiritual Health at Emory University Hospital, Emory University Orthopedics & Spine Hospital, and Emory Wesley Woods Hospital in September 2021. Previously, she managed the Clinical Pastoral Education programs at The Bay Area Center for CPE at Saint Francis Memorial Hospital and Sequoia Hospital, as well as Alta Bates Summit Medical Center in Berkeley, CA.  Va' Nechia's educational achievements include a Bachelor of Arts in Political Science and Film from California State University, Long Beach, a Master of Divinity degree from Candler School of Theology at Emory University, and she is currently completing the Master of Studies in the Law at UC Hastings College of the Law in San Francisco, CA. 
Va' Nechia is an ACPE Certified Educator and Board Certified Chaplain with the Association of Professional Chaplains. She also serves within ACPE leadership is various capacities as a Commissioner on the Accreditation Commission, theory paper reader and mentor, as well as National Faculty for candidates in the ACPE certification process.  Va' Nechia received her ordination in the Methodist tradition and has served as a pastoral care instructor, bereavement support group facilitator, and pastoral care administrator in various religious traditions and congregational contexts.
Va' Nechia's greatest passion in life and ministry is co-journeying alongside others in their vocational discernment process as they discover their divine calling and purpose as compassionate, competent, and equipped spiritual care clinicians and leaders.